Combat Stress: August 2017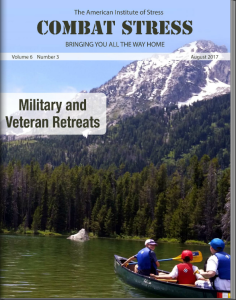 In this issue: 
Military/Veteran and Family Retreats: An Overview of Veteran Immersive Community Reintegration Experiences
Women Warriors: WVSJ Network Retreats
GratitudeAmerica: Healing Connections and Rebuilding Communities One Retreat at a Time
GratitudeAmerica Family Retreat: A Veteran Participant's Response
Healing of Memories Retreat
Walking with St. Francis: Journey of a Wounded Warrior Retreat
About Combat Stress Magazine
Combat Stress magazine is written with our military service men and women and their families in mind. We want all of our guests and members to find contentment in their lives by learning about stress management and finding what works best for each of them. Stress is unavoidable and comes in many shapes and sizes. Being in a state of peaceful happiness may seem like a very lofty goal. Serving in the military brings unique challenges, without adding the harmful mental and physical effects of serving during war time. AIS is dedicated to helping you and your family cope with and heal your mind and body from the stress associated with military life.
Subscribe to our FREE magazine for military members and their families!