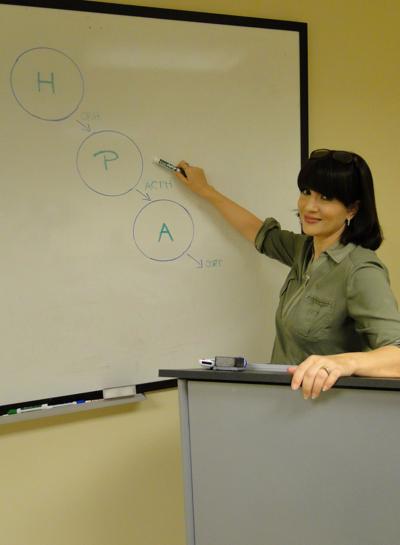 Ell Harlander, owner of Elevate Stress Management Services, in Brunswick, is pictured leading one of the seminars she makes available through her business
Shelly Harlander is also a Diplomate of The American Institute of Stress
You can hear the AIS podcast with her HERE
Stress management and well-being are rising concerns in 2021. According to the American Psychological Association's Stress in America 2020 Survey, nearly seven in 10 (67 percent) Americans say their stress levels have increased over the course of the COVID-19 pandemic and nearly two-thirds responded (61 percent) they could have used more emotional support than they received over the past 12 months.
According to Brunswick-based small business owner and stress management specialist Ell Harlander, it's time to rethink stress management. "We all have a lot on our plate and the hassles of everyday life have been growing. It's important to invest in ourselves at this time and renegotiate our relationship to stress."
Ell is known for her love of educating and empowering others. Whether she's facilitating a nutrition workshop or working one-on-one with clients to help them manage their stress and increase their well-being, she always keeps her love for the community at the forefront. She's recently started publishing a free quarterly digital publication called The Stress Digest for local businesses to distribute to their employees. "These are stressful times and I want to provide affordable, accessible services to help the community deal with the rising stressors amidst this pandemic – and if I can provide some helpful information for free – all the better," exclaims Ell.
Ell has a master's degree in adult education with an emphasis in behavioral psychology. She also has a university diploma in comprehensive nutrition where she focused her research on the reciprocal effects of stress and nutrition. She is a diplomate member of the American Institute of Stress and you can hear her speak on the February edition of the American Institute of Stress's national podcast, "Finding Contentment." Ell is also the owner of Elevate Stress Management Services in downtown Brunswick.
Ell moved to Brunswick from Savannah two years ago with her husband, Ryan, and her son, Lucas. "The friendly community and the beauty of the area appealed to us and it immediately felt like home," she said. She loves the idea of giving back to the community she feels has embraced her and her family.
Although reduced work hours, increased inconvenience, and uncertainty have contributed to Americans' rising distress over the past year, Ell says Elevate Stress Management Services hopes to be a beacon for well-being. She offers one-on-one coaching as well as educative seminars to help manage the physical and emotional effects of stress. Seminar topics include stress mastery, Prosoche mindfulness, and the role of nutrition in the stress response, to name a few. Ell has a registered dietician review and approves of all her nutrition-related content for accuracy, and she warns that seminars fill up quickly due to reduced seating capacity caused by COVID-19.
If you'd like to learn more about Elevate Stress Management Services or get on the distribution list for the free quarterly digital newsletter, The Stress Digest, visit www.ellharlander.com
Elevate is located in downtown Brunswick at 501 Gloucester St., inside The Wick 3.0 building.