Combat Stress Magazine
Combat Stress Editor COL (Ret) Kathy T. Platoni, PsyD, FAIS saluting her Commander in Chief
Harnessing Post-Traumatic Stress for Service Members, Veterans, and First Responders
Combat Stress magazine is written with our military Service Members, Veterans, first responders, and their families in mind. We want all of our members and guests to find contentment in their lives by learning about stress management and finding what works best for each of them. Stress is unavoidable and comes in many shapes and sizes. It can even be considered a part of who we are. Being in a state of peaceful happiness may seem like a lofty goal but harnessing your stress in a positive way makes it obtainable. Serving in the military or being a police officer, firefighter or paramedic brings unique challenges and some extraordinarily bad days. The American Institute of Stress is dedicated to helping you, our Heroes and their families, cope with and heal your mind and body from the stress associated with your careers and sacrifices.
Subscribe to our free magazine for military members and their families!
Current Issue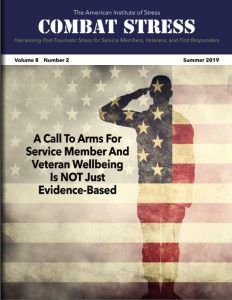 Summer 2019

A Call to Arms for Service Member and Veteran Wellbeing Is NOT Just Evidence-Based
Inside this issue: 
Searching for Ways to Reduce Veteran Suicides
What is the Best Mechanism for Fully Remitting PTSD, Trauma-Focused or Not?
Military Family Spotlight: In Their Heads They're Still Fighting…
The Research, The Real Stuff and The Resource
The Aftermath of the 18-Year Conflict
Stress Management – Is it Going to the Dogs? The Promise of Animal-Assisted Therapy
Sport and Hobbies That Benefit the Military Veteran
Veteran Spotlight – A. V. Avegalio
Past Issues
Want to contribute to Combat Stress magazine?
We are accepting submissions for feature sections in the following subject areas:
Science vs. Spirituality in Stress Management

PTSD- Integrated Medicine

Combat Stress- Burnout in Caregivers

Military Family Stress

Insomnia Due to Economic Stress

Pharmaceuticals vs. Subtle Energy
Articles should address practical considerations for the stress management practitioner and may not promote any specific product or facility.
Download Author Submission Guidelines >>
How do I submit a letter to the editor?
We welcome your comments. Please include your full name and address, along with a day and evening phone number so we can verify your letter. Submissions are edited for length, accuracy and clarity. Letters of 250 or fewer words have the best chance of being published.
Send Your Letter >>
Take our reader survey!