Leading through Traumatic Loss and Grief in Law Enforcement 
By Richard S. Biehl, Police Chief (RET), Dayton Police Department 
With contributions by: 
Maris Herold, Police Chief, Boulder, CO Police Department 
Thomas Wells, Police Chief, Springdale, OH Police Department 
*This is an article from the Winter 2022/2023 issue of Combat Stress
"Be prepared to grieve!" This was my response at the October 2019 Major Cities Chiefs Association conference session, "Mass Shootings: Lessons Learned," when I was asked by an attendee how I personally managed the experience of the mass shooting in Dayton (OH) that had occurred nearly three months prior. 
It was shortly after 2 A.M. on August 4th, 2019, when I received a call from Assistant Police Chief Matt Carper stating, "Chief, we've had an officer-involved shooting." I had received these calls numerous times over the prior two decades as a former Cincinnati Assistant Police Chief and subsequently as the Police Chief of Dayton, so this was not unfamiliar terrain. Then he added, "It's a mass shooting, there are ten persons dead including the shooter." I ended the conversation quickly, telling him that I would be back to Dayton as soon as possible. 
My return flight to Dayton landed nine hours after the mass shooting occurred. Late that afternoon, I conducted the first of four major press conferences held over the following two weeks. During that time span, I met with elected officials, homicide investigators, federal law enforcement officials, surviving family members of some of those killed, the six officers that confronted and stopped the assailant within 32 seconds of the first shot, and the Montgomery County Coroner, all while also attending to the endless other demands that stem from such incidents. This also included a Presidential visit. 
For weeks, I went home every evening after long, exhausting days. Most nights, while alone in the quiet, I wept. 
Little did I know that traumatic loss would visit again quite soon… 
Traumatic Loss and Grief in Law Enforcement: Often Unacknowledged, Unspoken, and Unexpressed 
It is not that the experience of traumatic loss and grief, stemming both from professional and personal losses, is foreign to those within the law enforcement profession. Rather, it is that it so rarely discussed organizationally or professionally outside of a line-of-duty death (LODD), which is a rare experience for most police organizations. Further, it is mostly ignored in professional articles on policing. 
This is bewildering, considering the "death-saturated" environment of policing as referenced by Papazoglou, Blumberg, Collins, Schlosser, and Bonanno,1 who note that while the experience of death and loss in policing is discussed in "some" articles, "researchers have yet to study of how officers experience and cope with death, loss, and grief." This is likely truer for those in leadership positions. The following narrative is an effort to provide anecdotal perspective to this end. 
But first, additional clarification regarding some of the permutations of grief in the sphere of experience, as well as some of its unique characteristics within law enforcement, is needed. 
Traumatic Loss and Grief by Various Names  
Various names and descriptions have been used to capture the nuances of unusual bereavement and grief such as "traumatic grief" (defined by its "two underlying dimensions…trauma and separation distress"),2 subsequently renamed as "Complicated Grief Disorder" (as this term captured better "the broader clinical syndrome"),3 and "Persistent Complex Bereavement Disorder" ("a bereavement-specific syndrome characterized by prolonged and impairing grief"),4 just to name a few. Efforts have been made over more than two decades to provide context and definition for a pathological grief disorder due to the experience of some bereaved persons of grief of prolonged duration and with severely disabling symptoms.5 There also has been a recognition of significant differences in bereavement from traumatic versus non-traumatic loss, both with the potential for "complicated grief reactions" described as "an umbrella term covering symptoms of prolonged grief disorder…and other post-loss complications, including symptoms of depression, anxiety, posttraumatic stress."6,7 
Recently, a text revision (DSM-5-TR) to the American Psychiatric Association's Diagnostic and Statistical Manual of Mental Disorders, Fifth Edition, has been issued, wherein the criteria for "Prolonged Grief Disorder" (PGD) has been added. Although confirmation of multiple criteria is required for a for a positive diagnosis related to a "death, at least 12 months ago, of a person who was close to the bereaved," three of the following eight-symptom criteria must be "present most days to a clinically significant degree;" "identity disruption, disbelief about the death, avoidance of reminders that the person is dead, intense emotional pain related to the death, difficulty with reintegration into life after the death, emotional numbness as a result of the death, feeling that life is meaningless as a result of the death, and intense loneliness as a result of the death."8 
Yet, it is arguable whether these evolved definitions and classifications of bereavement and grief actually capture the complexity of death, loss, and grief in police work. Do surviving police officers have to be "close" to a colleague killed in the line-of-duty or to have responded to the scene of such tragedy to experience a LODD as traumatic or to experience prolonged grief? Police officers generally do not know anyone "personally," much less have personal ties to most who are killed in mass casualty incidents. Does this mean that their very human reactions to such horrific events are not to be recognized as a response to traumatic loss and potentially subject to prolonged grief? What about their more frequent experiences responding to traumatic death due to intentional violence, traffic fatalities, suicides, and unexpected health conditions as well as other factors involved that can lead to posttraumatic stress and extended grief? Or the cumulative effects of experiencing tragic events over the entirety of a police career? How is the professional and personal havoc of unknown frequency from such experiences captured in the evolved therapeutic lenses of bereavement and grief? 
The breadth and depth of traumatic loss and grief in law enforcement, which can be considerable, deserves far greater attention of law enforcement leaders and social science researchers to better probe and answer these troubling questions and provide effective means to mitigate the inherent grief too often experienced by law enforcement personnel without adequate support and help. 
Traumatic Loss Knows No Bounds: Cumulative, Unexpected, and Compounded Loss 
Cumulative Loss 
In late October 2019, on the final day of the International Association of Chiefs of Police conference, Assistant Chief Matt Carper, unprompted by prior conversation, said to me, "Chief, you know there is one thing we haven't had…" He did not finish his comment or explain further, I knew exactly to what he was referring. 
Less than one week later, on the evening of November 4th, I was notified that Dayton Police Detective and Drug Enforcement Administration (DEA) Task Force Officer Jorge Del Rio had been shot during the execution of a DEA drug search warrant in West Dayton. I asked, "How bad is it?" The response was, "It's bad!" I knew everyone touched by this tragedy was facing a very difficult night and well beyond.9 
Detective Del Rio was kept on life support for three days, he succumbed to his injuries on November 7th. Even in his death, Detective Del Rio continued to serve others by giving them hope and potentially life as an organ donor. This day marked the beginning of another painful grieving period for so many law enforcement personnel throughout the Dayton region, but not nearly as excruciating as that for his wife, Kathy, and his four daughters. A tortuous path of grief lay ahead for many, particularly those police personnel who were still recovering from the tragedy of the Oregon District mass shooting, which had occurred three months to the date of the mortal wounding of Detective Del Rio.   
Unexpected Loss 
Police Chief Tom Wells, Springdale (OH) Police Department, had reached the pinnacle of his 30-year police career when he was appointed as police chief in the very agency in which he had come through the ranks. It is a rare achievement within law enforcement and one to truly celebrate. On the evening of March 21, 2020, joy turned to tragedy in his thirty-third day as police chief when he was notified of a pursuit that entered his jurisdiction resulting in a traffic crash and an "officer down." 
Having served as an Assistant Police Chief for ten years prior and having been notified of and responded to many serious incidents, he calmly told his spouse what had occurred and immediately changed into appropriate attire, leaving home to respond to the scene. While enroute, Chief Wells was informed that it was Springdale Police Officer Kaia Grant, an officer that he had helped hire in 2012, who was the officer down. Chief Wells saw Officer Grant at the scene, lying on the opposite side of the roadway from where she was struck by an armed aggravated burglary suspect. The suspect had swerved intentionally toward on-scene officers, including Officer Grant, who was standing at the median wall behind her car, prepared to deploy Stop Sticks. She was transported to University of Cincinnati Hospital by Air Care.10 
After leaving the scene, Chief Wells went to notify Officer Grant's family of her critical injury, news that would produce shock and grief far greater than his own. He then went to University Hospital, escorting Officer Grant's mother, aunt, and uncle, where Officer Grant was pronounced deceased.11 The Springdale Police Department had never had a police officer killed in the line-of-duty until then. 
He next had to face local media, at times struggling with intense emotion, to inform them of the tragic event of the evening resulting in the death of Officer Grant. Afterwards, he faced his fellow law enforcement members who were not at the scene to deliver the devastating news and where he witnessed in their subsequent facial expressions what could not adequately be described as "grief and despair." It was this memory and its replication whenever he had to speak to a public audience thereafter that resulted in tears for months. He eventually realized that these tears were "beyond grief."12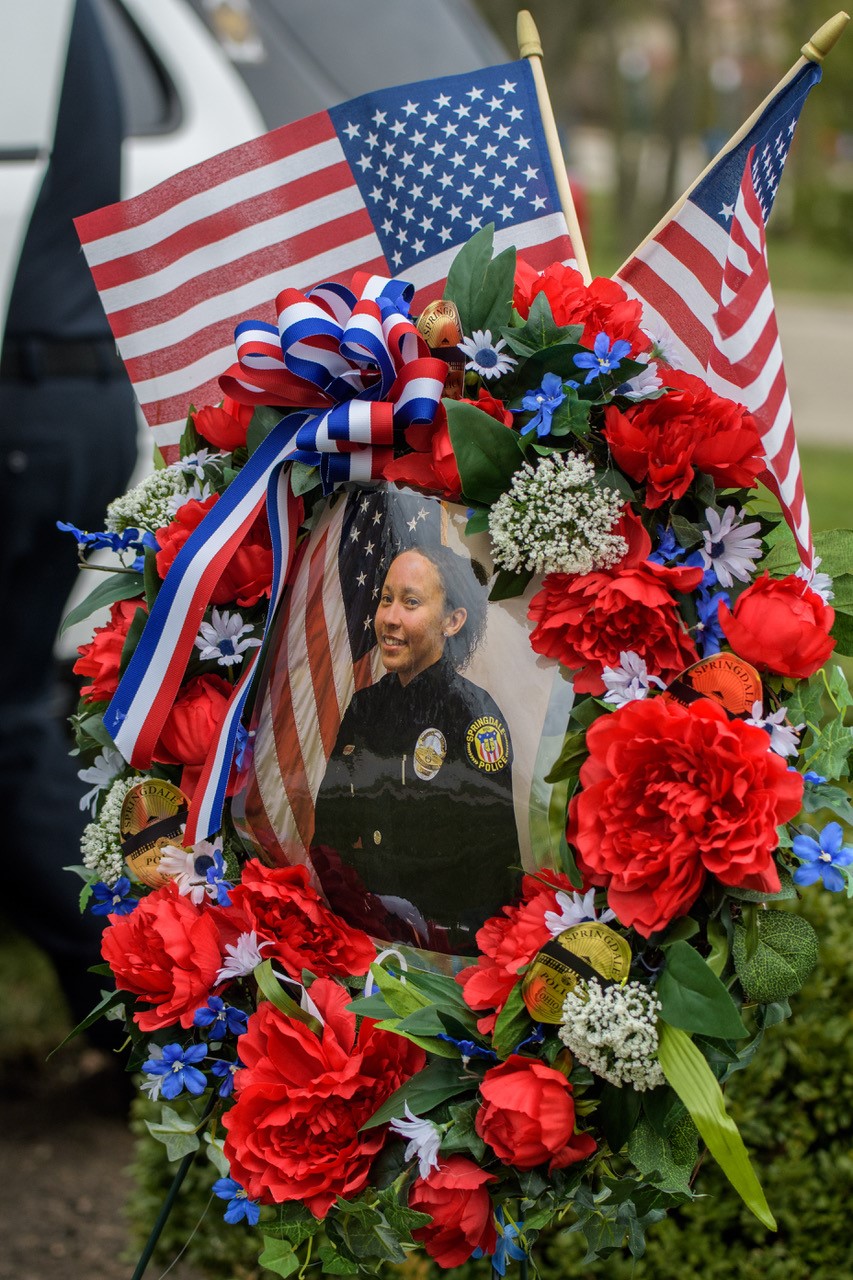 Compounded Loss 
In March 2021, Police Chief Maris Herold, a prior police chief at the University of Cincinnati Police Department and 26-year veteran of the Cincinnati Police Department, was just about to complete her first year as the Police Chief of Boulder (CO) Police Department. On March 22nd at approximately 2:30 P.M., a heavily armed, lone gunman began to walk across the road to the parking lot of King Soopers grocery store in South Boulder, methodically shooting individuals as he did.13 
Chief Herold was doing paperwork at her desk when initially notified via text message of an "active shooter" at King Soopers, a grocery store in the neighborhood where she lived. Due to a recent series of false text alerts, she called Deputy Chief Carey Weinheimer to verify the information. When her call was answered, she could hear gunfire over the phone. She immediately began responding to the scene and was filled with dread when she initially tried unsuccessfully to reach her spouse, who frequented the store. Upon her arrival, she assisted with critical incident management of what was a chaotic scene that included motorists trapped in their vehicles.14 
The armed suspect was barricaded in the store and after nearly an hour, the incident ended when the suspect was wounded and taken into custody.15 With the scene stabilized, Chief Herold entered the scene and saw Officer Eric Talley, who was shot in the head by the assailant during an initial entry into the store shortly after the mass shooting began. Officer Talley was removed from where he was located to the front of the store by SWAT personnel and later transported from the scene.16 Officer Talley was one of ten persons killed in the assault. 
As the scene stabilized, Chief Herold, along with Deputy Chief Weinheimer and a close friend of Officer Talley, responded to the Talley residence to notify Officer Talley's wife, Leah, and their seven children of Officer Talley's death, providing compassionate presence and emotional support, with the assistance from a chaplain. 
After leaving the Talley residence, Chief Herold met with District Attorney Michael Dougherty and FBI officials to conduct an initial press conference, her voice and facial expression evident of the emotional burden she was bearing. Afterwards, she proceeded to the CU Event Center, where families of the deceased were gathered. She stayed the night with them in their "unbelievably horrible" anguish, which she also shared.17 
Leading While Grieving: What Helped Getting Through It All 
Each of the traumatic and tragic events described above resulted in varied losses, with great complexity within police responses. Consistent themes emerged from the police leaders that shouldered substantial weight in responding to them, while under media and public limelight. The following is what substantially helped them professionally and personally to be able to do so. 
Organizational and Leadership Support 
Substantial resources are often required in critical events, and this was certainly true in the aforementioned tragedies. Chief Wells received support from the Ohio Bureau of Investigations in the criminal investigation of the death of Officer Grant and the assistance of the Ohio State Highway Patrol in the fatal crash investigation. Mutual aid from neighboring police agencies was also instrumental in providing patrol coverage for 10 days, which allowed most of the Springdale PD officers to be granted administrative leave for their personal health and to attend funeral services for Officer Grant. 
Chief Herold acknowledged personal and professional support from Boulder County agencies that responded to the scene and offered continuing assistance thereafter, support from Special Agent in Charge (SAC) Michael Schneider, the Federal Bureau of Investigation (FBI) as well as agency personnel that processed the crime scene, and District Attorney Michael Dougherty, who participated in press briefings and paid meticulous attention to the development of evidence that would allow prosecution of the offender and justice for all the victims of the mass shooting.18 
Similar support was provided to the Dayton Police Department in response to the Oregon District mass shooting by multiple local police agencies helping to stabilize the scene, provide aid to and transport victims to local hospitals, and assisting with crime scene processing. Substantial follow-up investigation was provided by the FBI to include forensic lab analysis of digital evidence and investigative support by the Behavioral Analysis Unit, as well as local agents. The staff of the US Attorney for Southwest Ohio provided substantial legal assistance in the expedited review of federal search warrants related to the case.  
Three months later, in response to the homicide of Detective Jorge Del Rio, regional and local Drug Enforcement Administration supervisors and agents engaged in relentless investigative efforts to pursue all investigative avenues, across the country and beyond, related to the drug trafficking organization responsible for supplying local dealers with 9 kilograms of cocaine and fentanyl. Alcohol Tobacco and Firearms (ATF) agents meticulously pursued the path of the crime guns recovered at the homicide scene and eventually filed criminal charges against the individuals responsible. Montgomery County Sheriff's Office provided patrol coverage during funeral services for Detective Del Rio, so that Dayton Police personnel normally on patrol could attend the services. 
These actions collectively provided critical support at the scene of these tragedies, needed follow-up investigation to hold offenders accountable, and follow-up operational support for the primarily affected agencies so that their personnel could be provided respite and the ability for police officers to participate in the funeral of their fallen colleagues and other supportive activities. 
All three police chiefs were able to attend to community and operational needs while critical mental health support was provided to their agencies' members who were immediately and significantly impacted by these tragedies. Dedicated and gifted police psychologists and community mental health counselors conducted post-incident defusings, critical incident debriefings, and in some cases, long-term psychological interventions to mitigate the immediate and potentially prolonged impacts of traumatic loss. Peer support personnel also performed a significant support role, both of which are vital topics which deserve much greater discussion beyond their mere mention in this writing.  
Expressions of Gratitude and Compassion 
All police chiefs who lead their agencies during these times of great loss noted the tremendous response from law enforcement agencies and their profound condolences for the loss of a fellow officer, which included letters and cards of sympathy and gifts of remembrance to honor their fallen colleagues. Financial support to the fallen officers' families was also provided by law enforcement personnel and support organizations to offset financial hardship. 
Community organizations and individuals responded in kind, frequently providing food for some sustenance for the families of the fallen officers and mourning officers of the affected agencies during many long days during and after the immediate death. Many flowers were sent to the affected agencies. Substantial financial donations were made in addition to that provided by law enforcement agencies or government established benefits to provide for the financial support to the bereaved families. 
This outpouring of compassion from law enforcement agencies and personnel, as well as local communities and beyond, was a healing balm to the pain of such terrible losses. 
The Personal Journey Through Traumatic Loss 
Traumatic loss and the intense grief that springs from it is as much an individual, as well as a collective experience. That is certainly true for the police chiefs who experienced these events of traumatic loss. Each had unique experiences that aided them individually in regaining balance, while enduring inescapable grief. 
Chief Wells acknowledged that his "shock and grieving process had to be put on hold" as he focused on the care and well-being of his staff and their recovery. However, this understandable decision, a common one for those in leadership positions, came at a cost. Time spent "staring out the window, mindlessly watching TV" and distancing himself from family did not aid in his recovery from loss and grief. He initially sought support through Companions on a Journey, a grief support group. When months passed and the inevitable emergence of tears whenever addressing groups of individuals did not lessen, he decided to attend Help for Heroes after learning about their program for treatment of mental health conditions experienced by first responders.19 Chief Wells completed a five-week treatment program and this, in conjunction with a long overdue vacation, he substantially credits for recovery from PTSD stemming from the violent death of Officer Grant. He also found unexpected kindred support and a lasting friendship through the father of Officer Grant and Glen Schaffer, the father of Washington State Trooper Justin Schaffer, who died in the same manner as Officer Grant. These experiences, as well as prior training at the FBI National Academy, serving as a member of the regional honor guard for 15 years, and his many years of experience as a police officer, supervisor, and senior commander, helped him get through and get past the sometimes-incapacitating effects of grief and posttraumatic stress.20 
Beyond initial support from local law enforcement leaders, Chief Herold attributes some of her healing and recovery to attending most of the funerals of those killed in the mass shooting and being invited as a guest of honor to one of the funerals. She found this to be "very healing." Also, substantial financial resources, provided through a private donor, helped to establish the Boulder Strong Resource Center that provided an array of treatment resources – acupuncture, therapy dogs, counseling, etc. – to first responders and the broader Boulder community. In addition, an art project featuring the photography of Ross Taylor,21 depicting the Boulder Police Department personnel, as well as other first responders and community members who responded to the mass shooting, in a way that they wanted to be remembered in that moment, was a powerful healing experience. The art was subsequently displayed publicly, bringing honor to the men and women of the Boulder Police Department and all that responded to the scene for their heroic and lifesaving response to a mass casualty scene.22 
The experience of the Oregon District Mass Shooting was the realization of my worst fear as police chief.  In immediate response to the collective grief of the Miami Valley community, a vigil was scheduled in the Oregon District at 8 P.M. on the evening of August 4th of 2019. Although being awake for eighteen hours and having less than three hours of sleep overnight, I attended the vigil. I wanted to be there with my community. But more accurately, I needed to be there. It was the beginning of what would be an extended healing process. 
What helped me function through the difficulty of the weeks and grief ahead was a focus on day-to-day demands of responding to this mass casualty incident, with the support of an incredible command staff and highly competent police staff. The eventual personal perception that I performed my duties well in addressing the needs of my community, my agency, and the officers of my agency, eased some of the burden and grief I felt. It was also helpful that many of the current and former Dayton Police Officers, police leaders from the region and members of the greater Dayton community recognized the leadership demonstrated by all members of the Dayton Police Department and surrounding agencies that responded to this horrific and violent scene, openly expressing it in so many ways. 
While still recovering from the physical and emotional toll of the Oregon District Mass Shooting, the homicide of Detective Del Rio renewed intense grief for so many police personnel, as well as for me. I struggled whether my words at his funeral provided the level of honor and recognition due such a dedicated and accomplished police officer, who gave his all in the service to his community and his noble profession. The day after the funeral services, Fire Chief Jeff Lykins presented to me a video (https://www.youtube.com/watch?v=r5mgu00ZAfY) made by Firefighter Marques Kincaid23 consisting of segments of the funeral of Detective Del Rio, with a voice over from my spoken tribute. This beautiful commemoration, with all the powerful images it captured, allowed police officers throughout our agency, the region, the DEA and beyond to witness the honoring of Detective Del Rio in such magnificent form. This became a vehicle for grief to have its expression for the many hundreds of police officers in attendance and for all who felt a soul-wrenching loss from his death. 
"We Don't Heal from Grief; We Are Changed by It."24 
Neither Chief Tom Wells, Chief Maris Herold nor I would claim that we or our agencies are fully healed from the trauma and grief endured through the tragic and traumatic loss of those with whom we have served or the terrible impact of the mass shootings that preceded or were concurrent with these losses. For better and to some degree less so, we and our colleagues have been forever changed by them. Yet, in the aftermath of profound tragedy, most of us have continued to serve our communities professionally and compassionately. In our collective emergence through trauma, loss, and grief, we have demonstrated our professional capacity and commitment to public service. We have not been impaired long-term by the tragedies that have befallen our agencies, our communities, and that so deeply affected us personally. We are forever indebted to Detective Jorge Del Rio, Officer Kaia Grant, and Officer Eric Talley for their legacy of devotion and ultimate sacrifice in helping and protecting their fellow officers and communities, "that cause for which they gave the last full measure of devotion."25 
References 
 Papazoglou, K., Blumberg, D. M., Collins, P. I., Schlosser, M. Dd., and Bonanno, G. A. Inevitable loss and prolonged grief in police work: an unexplored topic

. Frontiers in Psychology.

2020,

11

(1178):

doi: 10.3389/fpsyg.2020.01178

 

 
Prigerson, H. G., Shear, M. K., Frank, E., Beery, L. C., Silberman, R., Prigerson, J., Reynolds C. F. 3rd. Traumatic grief: a case of loss-induced trauma [Abstract].

American Journal of Psychiatry

. 1997,

154

(7):1003-9. doi: 10.1176/ajp.154.7.1003. PMID: 9210753.

 
Raphael, B., Martinek, N., & Wooding, S. Assessing traumatic bereavement. In J. P. Wilson & T. M. Keane (Eds.), 

Assessing psychological trauma and PTSD

[Abstract].

2004, (pp. 492–510). The Guilford Press.

https://psycnet.apa.org/record/2004-21033-017

 

 
Robinaugh, D. J., LeBlanc, N. J., Vuletich, H. A., & McNally, R. J. Network analysis of persistent complex bereavement disorder in conjugally bereaved adults. 

Journal of abnormal psychology

[Abstract]

, 2014,

123

(3), 510–522.

https://doi.org/10.1037/abn0000002

 
Lenferink, L. I. M., Van Den Munckhof, M. J. A., de Keijser, J., and Boelen, P. A. DSM-5-TR prolonged grief disorder and DSM-5 posttraumatic stress disorder are related, yet distinct: confirmatory factor analyses in traumatically bereaved people.

European Journal of Psychotraumatology

, 2021,

12

(1):

doi: 

10.1080/20008198.2021.2000131

 
Komischke-Konnerup, K.B., Zachariae, R., Johannsen, M., Nielsen, L.D. and O'Connor, M. Co-occurrence of prolonged grief symptoms and symptoms of depression, anxiety, and posttraumatic stress in bereaved adults: a systematic review and meta-analysis [Abstract].

Journal of Affective Disorders Reports

, 2021,

4

:

100140.

 
Nakajima, S., Masaya, I., Akemi, S., and Takako, K. Complicated grief in those bereaved by violent death: the effects of post-traumatic stress disorder on complicated grief,

Dialogues in Clinical Neuroscience

. 2012,

14

(2), 210-214, doi: 10.31887/ DCNS.2012.14.2/snakajima  

 
Prigerson, H. G., Kakarala, S., Gang, J. and Maciejewski, P. K. "History and status of prolonged grief disorder as a psychiatric diagnosis."

Annual Review of Clinical Psychology

. 2021,

17

(1): 109-126.

 
Reed, M. Dayton police chief reflects on the death of Det. Jorge Del Rio a year later. 2020, November 6.

WKEF/WRGT

, Sinclair Broadcast Group, Inc.

https://dayton247now.com/news/local/dayton-police-chief-reflects-on-the-death-of-det-jorge-del-rio-a-year-later

 

 
Wells, T.,

Personal Communication

. November 11, 2022.

 
Rice, B. and Baum, S. One officer dead, another injured, after police chase ends on I-275 in Springdale.

Cincinnati Enquirer

.

https://www.cincinnati.com/story/news/2020/03/21/crash-shuts-down-275-both-directions-state-route-4/2893654001/

 
Golick, K. B. Public tears, private struggles: an Ohio police chief's PTSD.

Cincinnati Enquirer

.

https://www.cincinnati.com/story/news/2021/01/10/public-tears-private-struggles-police-chiefs-ptsd/3920818001/

 

 
Bradbury, S., Phillips, N., and Murray, J. 58 minutes of terror: how the Boulder King Soopers shooting unfolded. 2021, March 27|UPDATED: March 27, 2021.

The Denver Post

.

https://www.denverpost.com/2021/03/27/boulder-shooting-king-soopers-58-minutes-how-unfolded/

 
Herold, M.

Personal Communication

, November 12, 2022.

 
Vera, A. Suspect in Colorado grocery store shooting faces 10 counts of murder, police say. 2021, March 23.

CNN

.

https://www.cnn.com/2021/03/23/us/boulder-colorado-shooting-tuesday/index.html

.  

 
Herold, M.

Personal Communication

, November 14, 2022.

 
Herold, M.

Personal Communication

, November 12, 2022.

 
Jackson, H. 10 people dead, suspect in custody after shooting at Colorado supermarket, 2021, March 22.

Global News.

https://globalnews.ca/news/7712466/boulder-police-warn-active-shooter-supermarket-colorado/

 
Ingram, A. Help for Heroes: Chief credits program for helping him cope with death of officer. 2020, August 31.

WKRC

, Sinclair Broadcast Group, Inc. 

https://local12.com/news/local/help-for-heroes-chief-credits-program-for-helping-him-cope-with-death-of-officer-cincinnati

.  

 
Wells, T.,

Personal Communication

. November 8, 2022.

 
Wenzel, J. Emotional new art exhibition focuses on people directly affected by the King Soopers shooting. 2022, February 17.

Denver Post

. 

https://www.denverpost.com/2022/02/17/boulder-king-soopers-shooting-anniversary-boulder-strong-museum-portrait-photo-ross-taylor/

 
Herold, M.,

Personal Communication

, November 12, 2022.

 
Kincaid, M. (2019, November 14). Funeral of the fallen – Detective Jorge Del Rio [Video]. YouTube.

https://www.youtube.com/watch?v=r5mgu00ZAfY

 

 
Schwartz, B. A. The grief factor: we have lost the world we knew and the lives we lived. 2020, August 21,

Police 1

.

https://www.police1.com/health-fitness/articles/the-grief-factor-Aipw7b8UAXcztar7/?utm_source=Police1+Member+Newsletter&utm_campaign=4149ef46d0-EMAIL_CAMPAIGN_2020_08_24_04_57&utm_medium=email&utm_term=0_ca044a84ea-4149ef46d0-59570019

 

 
The Gettysburg Address. (n.d.).

http://www.abrahamlincolnonline.org/lincoln/speeches/gettysburg.htm

Retrieved November 14, 2021.

 
ABOUT THE AUTHOR
Richard Biehl is the former Director and Chief of Police of the Dayton Police Department. He was appointed to this position by City Manager Rashad Young on January 28, 2008, and retired on July 30, 2021, after spending 13+ years as Chief of Police and nearly 43 years in public and community service. 
Chief Biehl served 24+ years as a Cincinnati Police Officer and for the last six years of his Cincinnati career as an Assistant Police Chief. He commanded both the Investigations Bureau and the Administration Bureau. His principle areas of responsibility included Internal Investigations, Planning & Special Projects, Youth Services, Criminal Investigation, General Vice Control, and Intelligence. 
In February 2004, he was appointed as the first Executive Director of the Community Police Partnering Center, a private nonprofit organization. Created in the aftermath of the civil unrest of 2001, the Partnering Center was established to work in partnership with the Cincinnati Police Department to train community stakeholders in problem solving methodologies to address community crime and disorder problems. In addition to leading many neighborhood crime reduction initiatives, in 2006 while Executive Director, Richard Biehl led the implementation of CeaseFire Cincinnati, a neighborhood gun violence reduction initiative using a public health approach for violence reduction modeled after CeaseFire Chicago and which led to reduced violence in the Avondale community. 
As Police Chief for the Dayton Police Department, Chief Biehl partnered with the Trotwood Police Department and the Montgomery County Sheriff's Office in 2008 to support community engagement in the Community Initiative to Reduce Gun Violence (CIRGV), a gun violence reduction initiative modeled after the Cincinnati Initiative to Reduce Violence, which resulted in reduction of group-related homicides in Dayton and surrounding communities. 
Under his leadership, the Dayton Police Department received the following professional recognition: 
Finalist for the 2010, 2011, & 2015 Herman Goldstein Award for Excellence in Problem Oriented Policing.

 

Recipient of the 2011 Ohio Crime Prevention Association's Special Project Award.

 

Recipient of the International Association Chiefs of Police Cisco Community Policing Award, 2011 and 2015.

 

Chief Biehl was the 2011 recipient of the OACP (Ohio Association of Chiefs of Police) Chief Michael Kelly Excellence and Innovation in Policing Award and also the recipient of the 2014 Dayton Convention & Visitors Bureau Ambassadors Award for bringing the International Problem Oriented Policing Conference to Dayton in October 2013.

 

In September 2019, President Trump awarded the Department of Justice Medal of Valor to

Sergeant William Chad Knight and officers Brian Rolfes, Jeremy Campbell, Vincent Carter, Ryan Nabel and David Denlinger for their quick, decisive, and courageous engagement of the Oregon District mass shooting assailant, ending the tragic onslaught in 32 seconds.

 
In October 2019 at the International Association of Chiefs of Police conference, President Donald Trump asked Chief Biehl and Assistant Chief Matt Carper to join him on stage in recognition of the brave acts of the six members of the Dayton Police Department that responded to the Oregon District mass shooting. 

 
Chief Biehl was a former competitive powerlifter and martial artist and his athletic pursuits included regional, national, and international sporting events spanning 1976 to 1992.   
Nearly 30 years ago, Chief Biehl began to practice yoga as a means to emerge from two years of chronic depression. In 2015, Chief Biehl authored the chapter, Trauma in the Theater of the Body, that was published in the book, Moving Consciously: Somatic Transformation through Dance, Yoga, and Touch (2015), and which discusses the potential of yoga to mitigate and heal trauma. In 2020, Chief Biehl completed a master's degree in Mindfulness Studies at Lesley University. He has presented an introduction to mindfulness practice to several conferences and local workshops. He incorporates mindfulness within this yoga teaching. 
Combat Stress Magazine
Combat Stress magazine is written with our military Service Members, Veterans, first responders, and their families in mind. We want all of our members and guests to find contentment in their lives by learning about stress management and finding what works best for each of them. Stress is unavoidable and comes in many shapes and sizes. It can even be considered a part of who we are. Being in a state of peaceful happiness may seem like a lofty goal but harnessing your stress in a positive way makes it obtainable. Serving in the military or being a police officer, firefighter or paramedic brings unique challenges and some extraordinarily bad days. The American Institute of Stress is dedicated to helping you, our Heroes and their families, cope with and heal your mind and body from the stress associated with your careers and sacrifices.
Subscribe to our FREE magazine for military members, police, firefighters,  paramedics, and their families!